Like a meandering meandery thing, so much to say, so little sense of order…!
Amongst the changes I'm progressing through in recent months, I've re-aquired a bunch of stuff that's been in storage for a number of years. Some of which: a veritable shedload (well, technically, half a van load) of miscellaneous textiles which are gradually cycling into new creations. From linen to clothes and curtains, some are older than I am, some scrips and scraps, but they all have fantastic futures as somethings beautiful and/or useful (in most cases, I hope, both).
Then at the same time the gods of synchronicity have sent some gloriously inspirational folks to cross my path. I can't leave them unmentioned in this post.
I encountered Raggedy Rags earlier this year at the London Knit & Stitch Show.
Drawn in by the delight of uniquely upcycled clothing and the wonderful mantra I've since adopted as my own: Dress like nobody's judging. I wish I'd gone back for that red coat, but I did leave with a head full of fresh ideas. And I'll catch another coat another time.
Then the colorfulicious Katwise pinged up on my web-wanderings radar. Recently her splendidly multi-coloured home has been featured in articles all over the place, you may have seen it? As an artwork it's amazing even if it surpasses your personal technicolour tolerances.
But beyond this, it led me to her sumptuous knitwear regenerations.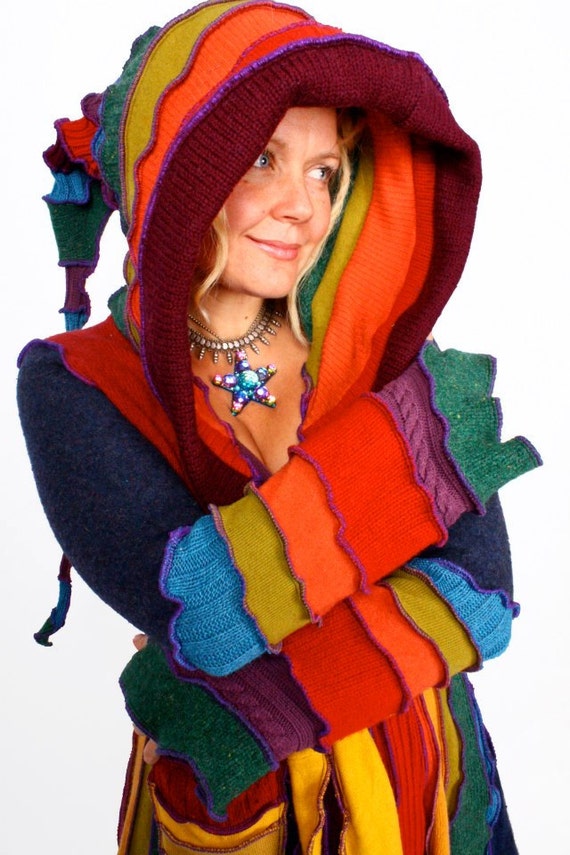 If you have even an inkling of a desire to learn more I can really recommend her ebooks.
Between these guys and the web-rabbit-holes I've explored as a result, I'm all fired up for some cosy winter sewings coming up soon. Just need Santa to bring me a serger (or eBay, gotta be a little realistic) and I'm good to go!